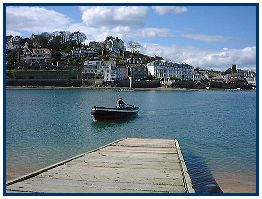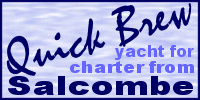 Where is Salcombe?
Located on the southernmost coast of Devon in England, Salcombe is equidistant from Plymouth, Torbay and the A38. It boasts a very mild climate and is popular with walkers, sailors or those simply wanting a slower pace of life away from busy city life! Salcombe lies at the mouth of the its "estuary", a truly amazing ecosystem of near Mediterranean climate which provides a home for many species of birds and plant life seldom found in Britain. Find out more…
What does Salcombe have to Offer?
Salcombe boasts some of the best sailing waters in the UK, sheltered for dinghy sailing and windsurfing. It is also within range of many amazing diving points. For the landlubbers, there are beaches, galleries, museums and scenery filled coastal walks. There is plenty of accommodation to choose from, including campsites, B&Bs;, friendly family hotels and the larger prestige hotels.
Quick Salcombe Links…

Area Guide ~ Accommodation ~ Dining ~ Activities ~ Shopping
(Looking for something else? Use the menu at the top, or try our search)
NEW! – South Hams Forum – For answers to all your questions, or to share suggestions with others, visit the South Hams Forum!
Get me a weather forecast for Salcombe (from the BBC)